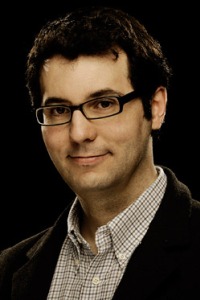 Fernando Velázquez (born November 22, 1976) is a Spanish-born composer of concert and orchestral music, as well as that for film and television. Velázquez may be best known for his World Soundtrack-nominated score for The Orphanage, yet during recent years his music was heard in many movies, short film and TV projects across wide spectrum of genres ranging from comedies (such as recent Ocho Apellidos Vascos), documentary about true events during WWII (Garbo: The Spy), through adventure and children films (The Adventurer: The Curse of the Midas Box or Zipi y Zape: Y el Club de la Canica - both released in 2013).
Fernando's experience as an accomplished cello player in various orchestras and his training in conservatories as "Jesus Guridi" from Vitoria and composition studies in the RCSM Madrid and Paris are the foundations of his talent. Fernando Velázquez already had experience in the world of cinema, and especially in the terror genre, having composed movies like Devil (written & produced by M. Night Shyamalan) and the Guillermo del Toro produced feature The Orphanage. His other credits include BackWoods starring Gary Oldman and Savage Grace starring Julianne Moore.
In 2010 he was selected to create symphonic works for the Bilbao Symphony Orchestra. He was one of eleven selected composers. Also Film Music Magazine rated his score to 'Devil' as one of the best scores of the year, quoting "Velazquez's brassily orchestral ambitions pay more of a blood oath to Bernard Herrmann and James Newton Howard, with the kind of churning, melodically rich symphonic sound that makes Devil's mostly elevator-bound setting anything but claustrophobic" In 2012, Film Music Magazine ranked his score to 'The Impossible' as one of the Top 10 scores of the year.
World Soundtrack Awards
2008: The Orphanage (nomination)
International Film Music Critics Association Awards
2009: Garbo: The Spy (nomination, Best Documentary Score)
2007: Best New Composer of the Year (nomination)
2007: The Orphanage (nomination, Best Fantasy/Sci-Fi/Horror Score)
2012: The Impossible (Film Music Composition of the Year, for "Main Titles": winner)
2012: The Impossible (Film Score of the Year: nomination)
2012: The Impossible (Best Original Score for a Drama Film: nomination)
2012: Film Composer of the Year (nomination)
Barcelona Film Awards
2007: The Orphanage (Best Original Score: nomination)
Cinema Writers Circle Awards, Spain
2011: Lope (Best Original Score: nomination)
2008: The Orphanage (Best Original Score: winner)
European Film Awards
2008: The Orphanage (Best Composer: nomination)
Goya Awards
2008: The Orphanage (Best Original Score: nomination)
2013: The Impossible (Best Original Score: nomination)
2015: Ocho Apellidos Vascos: No te marches jamás (Best Original Song: nomination)
Spanish Music Awards
2008: The Orphanage (Best Original Score: winner)
Gaudí Awards
2014: Los Último Días (Best Original Score: nomination)