February 13, 2018: LAURIERS DE L'AUDIOVISUELS 2019
Two days ago Cyrille Aufort won the French award Lauriers De L'Audiovisuel for his score for miniseries NOX. The award ceremony took place at Théâtre Marigny in Paris. You can watch Mr. Aufort's winning speech on Marrie Sabbah Agency's Facebook page. In other news MA MERE, LE CRABE ET MOI will air tonight on France 2. More info is available here .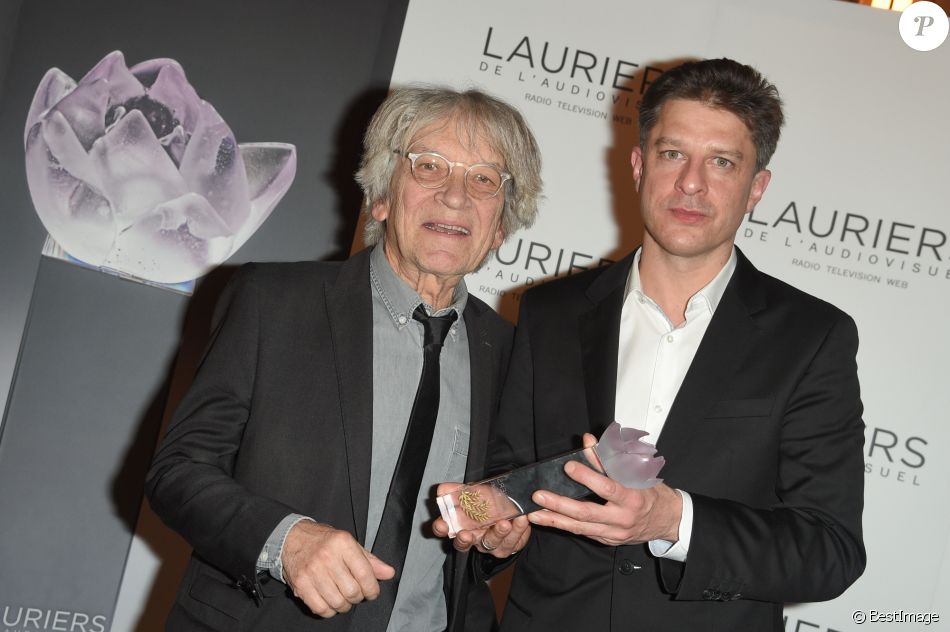 December 12, 2018: THE FRIEND short movie score to be released soon
Cyrille Aufort is one of several composers selected by MovieScore Media and included on the upcoming album SHORT CUTS 2018 covering some of the most interesting scores for 2018 short films. The album features Mr. Aufort's score for short film THE FRIEND. The other composers included are Angelo Badalamenti, Michael Csányi-Wills, Patrick Neil Doyle, Joe Kraemer, Nicholas Pike, George Shaw, Marc Timón Barcelo and others. The album will be released digitally on December 21st. while the CD edition will be released by Quartet Records in 2019.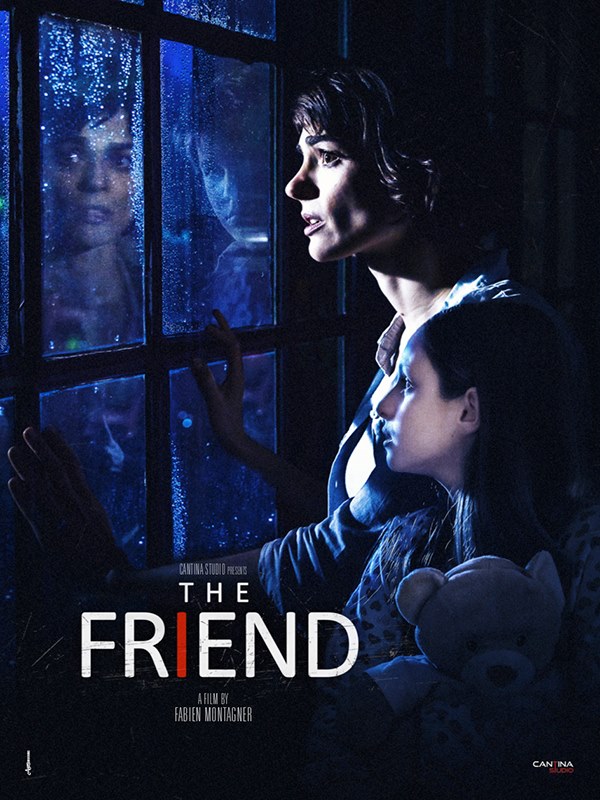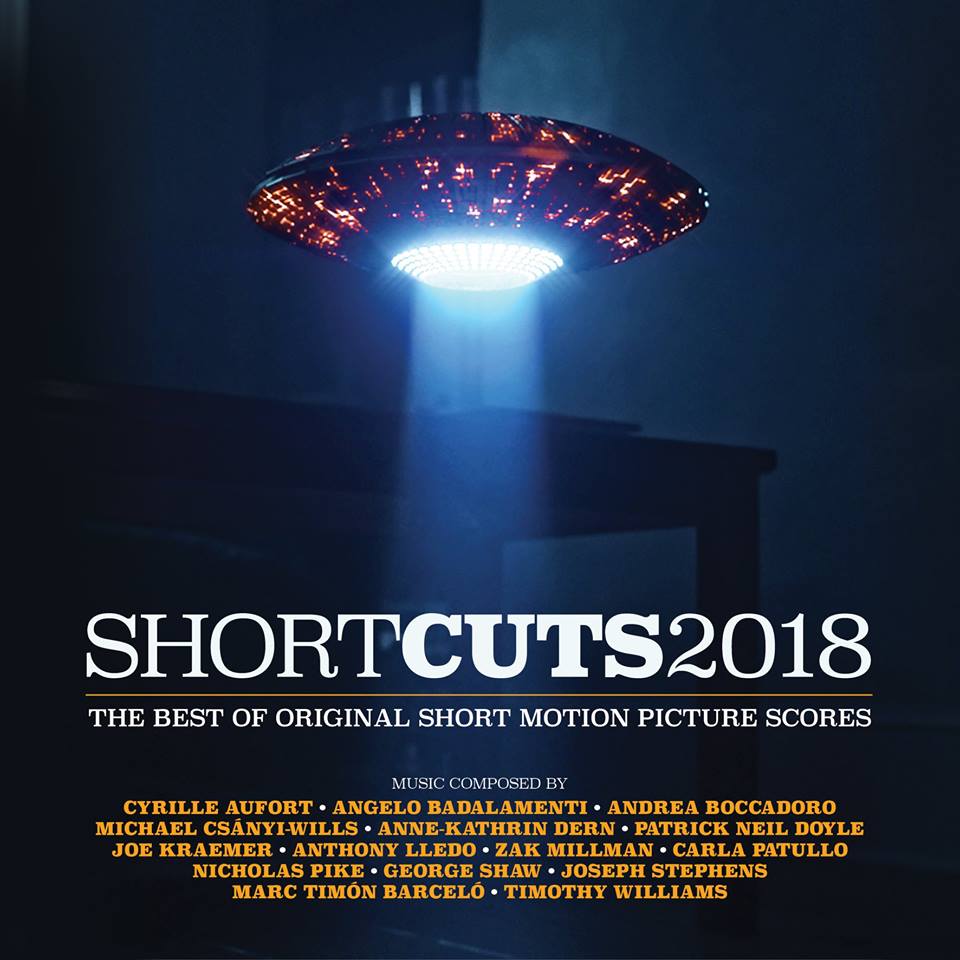 December 01, 2018: THE OTHER STORY samples
Samples are finally online. Check out the project's page for various other details and numerous purchase links.
November 18, 2018: THE OTHER STORY score released
22D Music has released Cyrille Aufort's score for THE OTHER STORY digitally this past Friday. The album features almost 37 minutes of original score and is currently available to purchase from Amazon. More purchase links and samples as well as other details will be posted next week.
01. The Other Story (Main Title) (1:24)
02. Meeting Anat (2:29)
03. Ex-Husband and Wife (2:06)
04. Prayer on the Roof (1:20)
05. Going to the Woods (2:51)
06. Entering the Pagan House (1:59)
07. Professor vs Singer (2:55)
08. The Ritual (1:38)
09. Parents' Plan (3:18)
10. Good News, Bad News (1:33)
11. The Truth (4:57)
12. At Schlomo's Bedside (1:37)
13. Entering the Monastery (2:36)
14. Learning to Lie (2:23)
15. Bended Knee (1:25)
16. The Other Story (End Title) (2:09)

Total Time: 36:40
November 15, 2018: L'EMPEREUR won HMMA
Congratulations to Cyrille Aufort who won his first HMMA Award for L'EMPEREUR in Best Original Score - Documentary category. For the complete list of winners, visit HMMA's website .
October 16, 2018: L'EMPEREUR score nominated for HMMA
After already winning Emmy Award for L'EMPEREUR, Cyrille Aufort has been also nominated for HOLLYWOOD MUSIC IN MEDIA AWARD for the same score in the "Best Original Score: Documentary" category. The awards show will be held on Wednesday, November 14, 2018 at The Avalon Hollywood. A portion of the proceeds will benefit Education Through Music – Los Angeles (ETMLA). For the complete list of nominees, visit HMMA website .
October 11, 2018: Avi Nasher's OTHER STORY
Cyrille Aufort has reunited with director Avi Nesher (PAST LIFE) and has recorded his score for THE OTHER STORY. The film tells the story of two families. The psychiatrist family daughter Anat has followed her musician boyfriend into Orthodox Judaism, and will soon marry. Grandfather Shlomo and mother Tali are desperate to stop the marriage, and get "abandoned her" father Yonatan to come back from the U.S. to help. Meanwhile, Shlomo's few remaining clients include a divorcing couple with a young son caught in a custody battle, with the mother having joined a feminist pagan circle and insisting on bringing her son to its rituals. Eventually, Anat is recruited to join the rituals as an observer, to determine if they are dangerous to the boy. As Yonatan discovers untruths about Anat's boyfriend, Anat has to decide if truth is the an absolute, highest value.The film has already debuted earlier this month at Toronto International Film Festival and will also screen on October 13th during Chicago Film Festival. So far there has been no specific wider release date announced. In other news new trailer for upcoming documentary NÉPAL: PAR-DELA LES NUAGES has been released yesterday and you can watch it below.
October 11, 2018: MA MERE, LE CRABE ET MOI
New TV movie from director Yann Samuel (JEUX D'ENFANTS) has been released earlier this month in France. The film is based on 2015 novella by Anne Percin and tells the story a of 14-year old Tania who finds out that her monther is suffering from cancer. Her care-free life takes several turns as she is trying to help her mother fight the disease and also grow up and become an adult. MA MERE, LE CRABE ET MOI marks the second collaboration between Yann Samuell and Cyrille Aufort after L'AGE DE RAISON.
September 09, 2018: Cyrille Aufort wins an EMMY!
Congratulations to Cyrille Aufort who won his first Emmy Award for his score for L'EMPEREUR yesterday in OUTSTANDING MUSIC COMPOSITION FOR A LIMITED SERIES, MOVIE OR SPECIAL (ORIGINAL DRAMATIC SCORE) category. The other nominees were: Mychael & Jeff Danna (Alias Grace Part 1), Cristobal Tapia de Veer (Philip K. Dick's Electric Dreams' episode Crazy Diamonds), Carlos Rafael Rivera (Godless - episode Homecoming), Harry Gregson-Williams (for The Commuter from Philip K. Dick's Electric Dreams) and Daniel Pemberton (for Black Mirror's U.S.S. Callister). You can watch Mr. Aufort's acceptance speech here.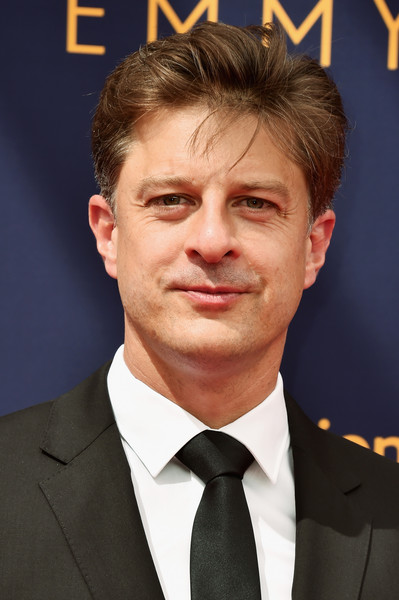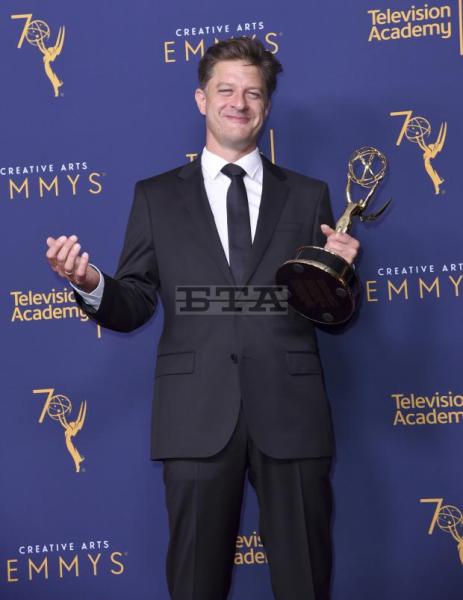 May 17, 2018: KNOCK nominated for UCMF Award
Cyrille Aufort has been nominated by UCMF (Union des Compositeurs de Musiques de Films) in Best Original Score for a Film category for his score for KNOCK. The other nominees are: Grégoire Hetzel (Fantômes d'Ismaël), Christophe Julien (Au Revoir la-haut) and Guillaume Roussel (HHhH).
March 21, 2018: NOX score released
Cyrille Aufort's original score for miniseries NOX was released earlier this week by Gaumont Télévision and is currently available to download from Amazon or iTunes. For more purchase links and audio samples visit the project's page by clicking on the cover below.
01. Nox Générique (0:48)
02. Catherine Susini (1:36)
03. Catacombs Niveau -2 (2:15)
04. Mere / Fille (2:11)
05. Babes (3:22)
06. Morgue (1:57)
07. La Sextape de Julie (1:59)
08. La Fosse (2:47)
09. Julie vs Nox (0:47)
10. Raphaël et Elsa (1:20)
11. La Mort de Chiappini (1:19)
12. Thomas Bousso (1:48)
13. Prologue Episode 4 (1:28)
14. Nous Sommes des Primates (2:40)
15. A la Poursuite du Fossoyeur (3:20)
16. Catherine Découvre la Fosse (2:05)
17. Face a Face: Catherine vs Nox (2:20)
18. Emma Affronte Sereny (1:10)
19. Noyade (1:56)
20. Catherine et Julie Entacées (1:54)
21. Derniere Marche (0:51)

TT: 39:53
March 12, 2018: New project announced: NOX
Cyrille Aufort composed original score for the miniseries NOX, which will air today on Canal+. The series, directed Mabrouk El Mechri, stars Nathalie Baye, Xavier Robic, Maiwenn, Frédéric Pierrot and Malik Zidi. Check out the trailer and clip (featuring a bit from the score) below and visit Canal+ for details.
February 17, 2018: New project announced: NEPAL: BEYOND THE CLOUDS
Cyrille Aufort has been hired to score upcoming documentary NEPAL: BEYOND THE CLOUDS (Népal, par-dela les nuages) for director Éric Valli (Himalaya). The project is currently in post-production and is expected to be released later this year, although no specific release date has been announced. The documentary is narrated by Jacques Gamblin.
December 03, 2017: Major update of the Projects section
Projects page has been updated and now also features details of all released scores including credits, tracklists and samples.
October 21, 2017: KNOCK CD now available
KNOCK score is now available on CD as well from Quartet Records (where you can also listen to numerous samples) as well as most specialized retailers. Visit Discography page for details and to order your copy. Here is an excerpt from the announcement: French composer Cyrille Aufort's score is anchored by a strong network of themes, driven by Knock's propulsive motif, full of plans and hopes. While this theme is active and always in motion, the theme for Adele lends a feminine charm to the narrative. It perfectly complements Knock's restless personality with a childlike wonder recalling the sound of a magical music box. To bring two such wildly different characters together, Aufort introduces a third musical element, something a little more romantic to characterize the mutual attraction between the two protagonists ("Adele and Knock," "Farewell to Adele"). The odious Lansky (a character who knows the truth about Knock) has his own espionage-flavored melody. The CD package includes a 12-page full-color booklet with liner notes by Gergely Hubai, and statements from director Lorraine Lévy and composer Cyrille Aufort.
October 13, 2017: KNOCK score album released
MovieScore Media just released Cyrille Aufort's score for KNOCK. The album is currently available through most digital retailers (see MovieScore Media website for details) and will be also available on CD next week from Quartet Records. Album features roughly 35 minutes of original score .
MMS17017 • KNOCK (Original Motion Picture Soundtrack)
Music Composed by CYRILLE AUFORT
Release date (digital): October 13, 2017
Release date (CD): October 20, 2017 (Quartet Records)

TRACK LISTING

01 Theme from Knock (2:30)
02 Whale Calf (2:55)
03 Adele (1:36)
04 Madame Rémi (2:42)
05 Arrival at Saint-Maurice (1:28)
06 Professor Bernard (1:31)
07 The Age of Medicine (1:04)
08 Student Lacoste (1:55)
09 Adele and Knock (1:18)
10 Consultation (1:36)
11 Waiting Room (1:15)
12 Lansky (2:21)
13 Sanatorium (1:25)
14 Farewell to Adele (2:07)
15 Knock vs Lupus (2:36)
16 Forward! (1:47)
17 Promise Me to Be Happy (3:38)
18 Knock (Reprise) 0:59
August 28, 2017: KNOCK trailer
First trailer for upcoming KNOCK was released a few days ago and you can watch it below. The movie will be released in France on October 18th. MovieScore Media will release the soundtrack album.
June 02, 2017: PAST LIFE score released!
Cyrille Aufort's score for PAST LIFE was released today by MovieScore Media. The album also features source/additional music composed by Avner Dorman and Ella Milch-Sheriff and it is now available as download with limited edition CD coming later this month. Here is a brief quote from the composer: "When Avi and I talked about Past Life, he told me it was a quest for truth of two sisters haunted by a dark secret. That's why he the score to play with different moods so I started composing with the idea of going from dramatic, romantic and emotional themes to some kind of action music in the archives scene. The main title was composed with the character of Sefi in mind. On the one hand I wanted it to have a lyrical touch and on the other I wanted to add something else, some kind of dark quality to it. That's what Past Life's score is, a blend of several musical components that mirrors the feelings of the characters. I really want to thank Joy Rieger for lending her voice to this music." For more information and various purchase links, visit MovieScore Media .
MMS17008 • PAST LIFE (Original Motion Picture Soundtrack)
Music Composed by CYRILLE AUFORT
Additional Music Composed by AVNER DORMAN & ELLA MILCH-SHERIFF
Release date (digital): June 2, 2017
Release date (CD): June 23, 2017

TRACK LISTING

01 Past Life Theme 2:51
02 Hishki Hizki (composed by Abraham Caseres) 3:33
03 Katowice 1:37
04 Baruch's Diary Part 1 2:58
05 Photoshoot 2:18
06 Dance Teacher 1:31
07 Warsaw 3:19
08 The Concert (composed by Avner Dorman) 3:07
09 Baruch's Diary Part 2 2:05
10 Archives 4:35
11 Zielinski 2:31
12 Sefi's Letter 1:48
13 Berlin 2:43
14 The Time Will Come (composed by Ella Milch-Sheriff) 3:56
15 Baruch and Agnieszka 2:03
16 Past Life End Credits 2:50
17 Cantique de Jean Racine (composed by Gabriel Fauré) 5:29
March 19, 2017: PAST LIFE first sample from the score
Here is the End Credits piece from Cyrille Aufort's score from Israeli drama PAST LIFE. After being released in its home country and couple festivals earlier this year, the movie is still awaiting its wider release. So far there is no info regarding any release of the score...
March 17, 2017: New project announced: KNOCK
Cyrille Aufort recently recorded his score for upcoming comedy KNOCK at Studio Davout in Paris. The movie is directed by Lorraine Lévy and is based on 1923 satyrícal play of the same name written by Jules Romains. The play follows Dr. Knock who arrives in a rural village Saint-Maurice to take over as the local physician. Unfortunately all villagers are in good health, which makes Knock realize that he has been duped by his predecessor. He therefore decides to make everybody believe they are actually far more sick then they actually are. The movie stars Omar Sy, Ana Girardot, Alex Lutz and Hélene Vincent. So far no release date has been announced. You can check two photos from the sessions. Click on images to load them in full resolution.
February 16, 2017: L'EMPEREUR samples online
Just completed the multimedia section featuring few interviews with the composer as well as showreel covering his officially released music´- including several clips from his most recent score for L'EMPEREUR. More clips coming soon...
February 12, 2017: L'EMPEREUR soundtrack album announced
Soundtrack album for anticipated sequel to MARCH OF THE PENGUINS entitled L'EMPEREUR will be released later this week by Bonne Pioche Music. Soundtrack album should be available as download only release through most of the specialized retailers. You can pre-order and listen to tbe audio samples on Amazon.
01. L'appel 2:16
02. Loamok 1:30
03. Parade amoureuse 2:02
04. Maman ne revient pas 2:25
05. 1ere marche 2:57
06. 2eme marche 3:07
07. La creche 2:20
08. Les pétrels géants 1:40
09. Le petit empereur 1:31
10. 3eme marche 2:09
11. Le monde sous-marin 2:02
12. Les grandes profondeurs 2:04
13. Dangereux premiers pas 3:17
14. La séparation 1:23
15. Le dernier voyage 4:32
16. Nouveau plumage 2:59
17. Glissades 2:16
18. La marche des petits 1:29
19. C'est donc ça l'océan ! 2:16
20. Les manchots Adélie 1:02
21. Un nouveau cycle commence 5:07

TT: 50:24

February 12, 2017: PAST LIFE score praised by Variety
Cyrille Aufort score for upcoming drama PAST LIFE has been praised in the film's review recently published by Variety: "Also critical to the film's affect and deserving kudos are the orignal score by Cyrille Aufort, soundtrack production by Yishai Steckler and sound design by Gil Toren." You can read the whole review here and watch the film's trailer on Youtube. Currently there are no plans for the score album release of any sort.

February 12, 2017: WEBSITE LAUNCHED
Website launched.