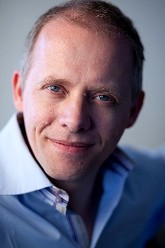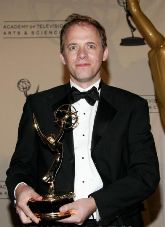 Edward Shearmur (sometimes known as Ed Shearmur) (Born 28 February 1966) is a British film composer. Born in London, England. At age 7 he sang in the boys' choir at Westminster Cathedral. Educated at Eton College, he studied at the Royal College of Music and went on to a scholarship at Pembroke College at the University of Cambridge. After graduating he met Michael Kamen in 1988 who took on the young musician as an assistant, and Shearmur got his musical feet wet orchestrating, programming, and playing keyboard on such films as LETHAL WEAPON and DIE HARD.
Later he also received his first composing credits helping Kamen out with his score fot LET HIM HAVE IT and his first solo efforts followed soon and Shearmur started scoring small British films, including THE CEMENT GARDEN which won the director's prize at the Berlin Film Festival. His big break came with his score for WINGS OF THE DOVE, which won a nomination for the British Academy Award for best film music. An assignment to score SPECIES II, the sequel to 1995ís successful horror film, brought Shearmur to Hollywood. He has since proven both his strength and his versatility scoring for a diverse range of immensely popular films including the likes of both CHARLIE'S ANGELS outings, CRUEL INTENTIONS, SPECIES II, JOHNNY ENGLISH, COUNT OF MONTE CRISTO, K-PAX and SKY CAPTAIN AND THE WORLD OF TOMORROW.
When Theodore Shapiro wasn't available (due to scheduling conflict) to score sequel of his 2010 hit DIARY OF A WIMPY KID, Shearmur took over scoring both sequels and cemented his reputation as reliable comedy composer responsible for another two recent hits of the genre. Except for his well known big budget Hollywood projects, Shearmur not only provided additional music for movies such as WOLFMAN and FOUR BROTHERS and has been active in television as well. His theme for 2005 MASTERS OF HORROR Showtime series won him Emmy Award for Outstanding Original Main Title Theme Music. In 2011 he also participated in unique SYMPHONY OF HOPE: A HAITI PROJECT providing segment for 4th movement of the symphony, which combines talents of 25 prominent Hollywood composers. The symphony premiered as recording only with its first live performance taking place on August 6th, 2012.
In addition to his film and concert work, Shearmur has always had a deep love of rock 'n' roll, having collaborated as both a keyboardist and an arranger with a number of top performers including Eric Clapton, Annie Lennox, Pink Floyd, Led Zeppelin, Marianne Faithfull, Bryan Adams, Echo & the Bunnymen, Jimmy Page and Robert Plant.