October 06, 2013: Patrick Doyle on his commission from Syracuse International Film Festival
Earlier this week Patrick Doyle attended Syracuse Film University and premiered his latest score there. Doyle was comissioned to compose 77-minute score for silent movie IT (1927) earlier this year and the movie premiered on October 3rd when it was screened at the festival with Patrick Doyle's score performed live by 17-piece orchestra made up of musicians from Symphoria and the Society for New Music, and conducted by Travis Newton, Director of Music at Le Moyne College. Here is a little article about it, hopefully more will follow soon. If you haven't heard the interview, in which Patrick Doyle was talking about his new score with Tim Burden, check it out below:
October 06, 2013: PUPETTEER soundtrack released
Patrick Doyle's first score for a videogame was recently released as part of special "theatrical edition" edition of the game (see June 6th post below for details), which includes the soundtrack as 256 kbps MP3. So far the score is exclusive to the game and isn't available for purchase anywhere else. Tracklist follows.
1 Kutaro (1:10)
2 Moon Bear King (1:08)
3 The Moon Witch (1:16)
4 Pikarina (1:08)
5 Land, Already! (1:08)
6 Open The Gate (2:41)
7 It's A Traaaaap! (1:31)
8 Onward And Upward (1:33)
9 Woe Is Me (0:56)
10 Tea Party (1:32)
11 This Saturday Morning Cartoon Is Over! (1:36)
12 Monkey See, Monkey Do (1:24)
13 Fire The Long Toms! (2:53)

14 Ahoy, Moby! (1:31)
15 Danger (1:12)
16 Slitering Scourges (1:36)
17 Across The Plains (3:34)
18 Horse And Bull (1:34)
19 Bullfight (1:46)
20 Hallowee Ville (3:14)
21 City In The Fog (1:36)
22 The Gateway To Earth (1:11)
23 I'm Not Done With You Yet (1:43)
24 Stop That Monster! (1:35)
25 The Hero Of The Moon (1:18)

June 27, 2013: Patrick Doyle's ASCAP acceptance speech
Finally at least part of Patrick Doyle's ASCAP award acceptance speech is now available on Youtube.
June 24, 2013: ASCAP: Patrick Doyle's Life in Music Interview
Patrick Doyle was awarded with Henry Mancini Lifetime Achievement Award by ASCAP, which also published lengthy interview with the composer discussing in detail first 25 years of his music. You can check this great interview also including number of photos from various sessions and with some of the directors Patrick Doyle has worked with.
June 06, 2013: ASCAP to honor Patrick Doyle with Henry Mancini Lifetime Award
The American Society of Composers, Authors and Publishers (ASCAP) will host its 28th annual Film & Television Music Awards on Thursday, June 20th, 2013 at the Beverly Hilton Hotel in Los Angeles, CA. The invitation-only dinner and awards ceremony will pay special tribute to Patrick Doyle, and honor composers of the top box office film music, the most performed television music and the top video game music of 2012. Patrick Doyle commented: "I'm incredibly passionate about the music I create, so it's with great pride that I receive this award from a society made up of such a talented and diverse group of my peers. As a recipient of the ASCAP Henry Mancini Award, I'm in terrific company." ASCAP President and Chairman Paul Williams commented: "Patrick Doyle's extensive body of work is some of the most compelling and affective in the industry. His ability to flawlessly cross genres in film, TV and beyond is why he can successfully score everything from Carlito's Way to Harry Potter and the Goblet of Fire. We're all very excited to honor him at this year's Film & Television Music Awards." Full press release available here.
June 06, 2013: Patrick Doyle's first videogame and silent movie scores
2013 is turning out to be another very busy year for Patrick Doyle, who has recently completed his score upcoming JACK RYAN for Kenneth Branagh as well as working on his new score for 1927 silent movie IT starring Clara Bow, which was comissioned by The Syracuse Film Festival and will premiere on October 5th 2013, he has been also working on his first videogame score for Playstation's PUPPETEER. Here is the game trailer and more details as well as pre-order are available here. PUPPETEER will be released in mid September and the special "theatrical edition" will also include soundtrack album.
May 07, 2013: New interview
New issue of Tim Burden's Movie Magic features new interview with Patrick Doyle discussing his latest album, IMPRESSIONS OF AMERICA. You can listen to the whole show (also featuring interviews with Christopher Gunning, Bruce Broughton and Michael Giacchino) here.
April 06, 2013: Happy birthday to Patrick Doyle!
60 years old today!
March 06, 2013: Patrick Doyle's IMPRESSIONS OF AMERICA album coming soon...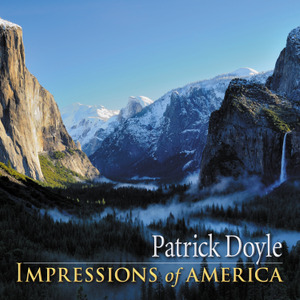 Patrick Doyle's solo album Impressions of America will be released on CD by Varese Sarabande on April 16th. Here is the basic info from Varese's website about this upcoming album:
"2013 certainly seems set to be a year of exciting celebrations! We are so excited to announce our latest release by one of film music's greatest and most successful composers ... the great Patrick Doyle!
Doyle's film scores include such blockbusters as Brave, Harry Potter and The Goblet Of Fire, Rise of the Planet of the Apes, Thor, Bridget Jones's Diary, Henry V and so many others! Doyle is a Scotsman who has been coming to America for many years now to bring his incredible music to Hollywood. These many trips have now inspired their own musical work and Doyle has composed a symphonic piece consisting of fifteen impressions. Patrick Doyle's IMPRESSIONS OF AMERICA is a nostalgic look at America ... its landscapes, its traditions, and its people.
Scored for full symphony orchestra, we release Patrick Doyle's IMPRESSIONS OF AMERICA to celebrate the composer's 60th birthday in April of 2013."
1. Washington DC
2. Pumpkin Pie
3. Christmas In New York
4. Transcontinental Railroad
5. The Great Depression
6. Mount Rushmore
7. Prairie Sunrise
8. Winter In Alaska

09. Decaying City
10. Yosemite
11. Death Valley
12. Rushing Rapids
13. The Great Plains
14. Old Glory
15. Thanksgiving

February 04, 2013: Patrick Doyle's 60th Birthday Concert
2013 will bring several concerts featuring music by Patrick Doyle. One of the most interesting and recently announced is Patrick Doyle's 60th Birthday Concert featuring The London Symphony Orchestra conducted by Frank Strobel. The concert will take place on December 1st, 2013 in London's Barbican Hall and will feature Patrick Doyle's scores such as Hamlet, Much Ado About Nothing, As You Like It or Henry V. Pre-concert talk with Patrick Doyle is also planned. For more information visit LSO's website.
January 04, 2013: The Music of Patrick Doyle concert in Switzerland
The 21st Century Orchestra has annouced several film music concerts for their upcoming season featuring "The Music of Patrick Doyle" on March 9, 2013 featuring music from from such films as Mary Shelley's Frankenstein, Henry V and Harry Potter and the Goblet of Fire. Doyle will attend the event in person and participate in a pre-concert talk before the concert. For tickets, visit KKL's website. For more information about the 21st Century Symphony Orchestra, visit the orchestra's official website and Art Productions (both sites in German).
December 20, 2012: THR's Composer Rountable
Patrick was one of the six composers participating in recent The Hollywood Reporter's Composer Rountables (the others being Marco Beltrami, Mychael Danna, Alexandre Desplat, Danny Elfman and Fernando Velazquez). You can read the article and also watch LENGTHY interview with the composers discussing various aspects of their craft here .
December 06, 2012: BRAVE nomination and interview
Patrick Doyle was recently nominated for ANNIE award (together with Mark Andrews and Alex Mandel) for his score for BRAVE. He has also been recently inteviewed by Los Angeles Times and you can read the article online (and also see a rare picture of Patrick Doyle in a kilt) here. The other ANNIE nominees in Music in a Feature Production category are:
Alexandre Desplat – Rise of the Guardians – DreamWorks Animation
Bruce Retief – Adventures in Zambezia – Saltzman Communications
Henry Jackman – Wreck-It-Ralph - Walt Disney Animation Studios
Joel McNeely, Brendan Milburn, Valerie Vigoda - Secret of the Wings – DisneyToon Studios
John Powell, Adam Schlesinger, Ester Dean - Ice Age: Continental Drift – Blue Sky Studios
John Powell, Cinco Paul – Dr. Seuss' The Lorax – Illumination Entertainment
Mark Mothersbaugh – Hotel Transylvania – Sony Pictures Animation

June 24, 2012: Three new interviews
Patrick Doyle has been doing a lot of publicity recently for his score for Pixar's BRAVE. Here are three of the most recent interviews featuring brief interview from BRAVE premiere in Los Angeles earlier this week as well as two more shot during his stay in Los Angeles during which he also participate in Q+A at the SCL screening of the movie on June 20.
June 13, 2012: New interview from Film Music Magazine
New Interview with Patrick Doyle was released yesterday in Film Music Magazine. Patrick Doyle is not only discussing his work on BRAVE score in general but also working with his son on one of the original songs and hinting his future plans including sequel of RISE OF THE PLANET OF THE APES. You can read Daniel Schweiger's interview here .
June 04, 2012: first BRAVE samples
Newly released BRAVE feature offers brief excerpt from the recording sessions with The London Symphony Orchestra as well short mini-interview with Patrick Doyle. You can watch it here. Full interview will be released as part of June issue of Film Score Monthly Online and today, FSMO subscribers can actually listen to special 7-minute suite from the score. For more information, click here .
May 01, 2012: BRAVE OST announced, new concert piece to premiere in July
BRAVE: Original Motion Picture Soundtrack will be released by Disney Records on June 19. You can already pre-order the album at Amazon. For tracklist and other details, click on the cover image on the right. Patrick Doyle has also recently completed his new concert work, entitled Impressions for America: A Suite for Orchestra, which will premiere in July during the Three Choirs Festival in Hereford. The piece was composed especially for the members of National School Symphony Orchestra. You can watch video from the rehearsal, including interview with Patrick Doyle at BBC's website.
March 06, 2012: BRAVE trailer
New trailer of upcoming Pixar movie BRAVE (featuring music by Patrick Doyle recorded in early 2012) was recently released and is currently available in Japanese with english subtitles only. International version in original english language is most likely coming very soon. In the meantime you can watch the trailer below:
December 13, 2011: MAN TO MAN
MovieScore Media announced release date of long-planned release of Patrick Doyle´s score for MAN TO MAN. The album will be finally released on December 27th as digital download and on CD. The first CD edition is limited to 1000 copies. The score should be available through most specialised retailers during next few weeks. Tracklist coming soon.
November 12, 2011: THOR recording sessions
Watch Patrick Doyle working with conductor James Shearman on THOR score with The London Symphony Orchestra. This short extra is included on recent Blu-Ray release of the movie.
November 12, 2011: Website launched
First trial version of this website has been launched. More content and updates coming soon. So far all pages are accessible at least in their temp versions including more-less finalised biography, filmography, multimedia, discography and contact pages.