21. 08. 2011


Almost half a year passed since the last update. Dario Marianelli recently completed his score for upcoming Lasse Hallstrom movie SALMON FISHES IN THE YEMEN, which should be released in early 2012. No specific release date for US has been announced yet except several festivals the movie will be seen at (there is still chance the movie will be released at the very end of 2011 to qualify in this year's award season). As was announced in Ubeda last month, PANDAEMONIUM score album is finally coming from MovieScore Media later this year.

28. 02. 2011
JANE EYRE Samples are finally up at Amazon . The playing time of the CD is about 44 minutes.

30. 12. 2010
Dario Marianelli's score for JANE EYRE will be released on March 8 by Sony Classical. The score is already available for pre-order at Amazon and will be probably available through many of specialised shops as release date approaches. There is nearly nothing known about the score but the front cover credits violin virtuoso Jack Libeck as the lead performer of the score...

30. 12. 2010
EAT, PRAY, LOVE score was finally released within a DeLuxe edition featuring two CDs in a digipack. The first CD is the same as album previously released, while the other one features approx. 18 minutes from Dario Marianelli's score. Unfortunately the only store that carries this album is HSN shipping only within U.S.. For those, who can order, you can do so here for a very good clearance price. For the rest, there is at least a few samples available.

24. 12. 2010
According to the most recent news, Dario Marianelli recently completed his score for the upcoming adaptation of JANE EYRE. The movie stars Mia Wasikowska, Michael Fassbender, Jamie Bell, Sally Hawkins and Dame Judi Dench. It is directed by Cary Joji Fukunaga ('Sin Nombre') and opens in March 2011.

28. 11. 2010
Whole year has passed since the latest update. Unfortunatelly nothing new to report these days. The site has been redesigned and there is still a couple of pages left to add. In the meantime, two new released have been released. Dario Marianelli's only 2010 film score for EAT, PRAY, LOVE is available as song album featuring only one cue from the score (one bonus score track available in download version of the album) and MovieScore Media just announced release of Dario Marianelli's 2003 score HAPPY NOW. You can already pre-order the CD from ScreenArchives and check the samples there as well.
Regarding the website, there is not too many new additions, only Guestbook has been added and feel free to post anything related to Dario Marianelli there. If you have any suggestions, comments or request for specific samples, feel free to post them there.

28. 11. 2009
The tracklist of upcoming score album EVERYBODY'S FINE is now added in the discography. You can already pre-order the CD at Varese Sarabande. In the meantime, Dario Marianelli signed to score upcoming Ryan Murphy's film adaptation of Elizabeth Gilbert's memoir, EAT, PRAY, LOVE. The film, which tells the story of a woman who embarks on a journey around the world when she realizes that she needs a change of direction in life, stars Julia Roberts, James Franco, Javier Bardem and Viola Davis and is produced by Columbia Pictures for release next year. ( source )

21. 11. 2009
Varese Sarabande will release Dario Marianelli's score for the Robert de Niro comedy EVERYBODY'S FINE, will be released on CD by Varese Sarabande on December 22. The film, which is directed by Kirk Jones (Nanny McPhee), tells the story about a widower who embarks on a road trip to reunite with his children. Other cast members include Kate Beckinsale, Drew Barrymore and Sam Rockwell. Also on December 22.
You can also read interviews with Dario Marianelli and director Joe Wright at Music from the Movies.

02. 10. 2009
Dario Marianelli's score for Alejando Amenabar's epic drama AGORA was released this week by Warner Music Spain. You can listen to few samples from the score and read the first review here (in Spanish) or order the CD here. Tracklist added to the discography. Few more projects is currently in the works but none release dates had been confirmed so far: HIPPIE HIPPIE SHAKE and EVERYBODY'S FINE.

12. 03. 2009
THE SOLOIST album will be hopefully released by Decca Records on March 21st. Here is the first review of the score and the tracklist was added to the discography. You can watch interview with Dario, where he talks about his approach to scoring THE SOLOIST here . In the meantime he signed to score two new projects. While adventure drama EVERYBODY'S FINE, including cast of Robert De Niro, Kate Beckinsale, Drew Barrymore and Sam Rockwell, is currently in the post production and set for release at the end of Novemer 2009, ALL QUIET ON THE WESTERN FRONT is still in preparation and isn't expected until next year. Last year Dario Marianelli also completed the scores for two short films by Asif Kapadia. Unfortunately there is still no release date set for HIPPIE HIPPIE SHAKE.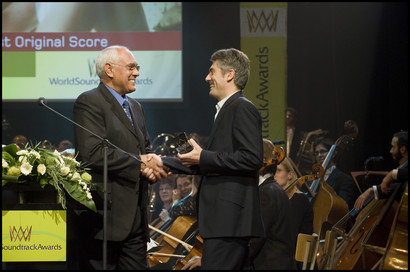 19. 10. 2008
THE SOLOIST album (on Decca Records) pre-order was available on Amazon. Unfortunatelly the film is currently being re-scheduled for release in March 13, 2009 ( read more about it ) - instead of originally planned mid November. Dario Marianelli won yesterday Award for Best original score of 2008 suprisingly for ATONEMENT, which was released in fact early enough to qualify for the last year's ceremony. Here is a picture from the ceremony.
21. 09. 2008
Not very much news to report. THE SOLOIST is currently in the post-production, the trailer is now online and Dreamworks SKG will release the film on November 21st. In the meantime FAR NORTH was released on DVD and a clip from the score will be hopefully added soon.
01. 05. 2008
Not very much news to report. MovieScore Media announced there is less than 50 copies left of their release of Dario Marianelli's score BEYOND THE GATES. If you haven't ordered this soundtrack yet, you can do so following links to numerous retailers on MSM's website here. It was also mentioned that 3rd release featuring a Dario Marianelli's score on MovieScore Media is currently in the works.