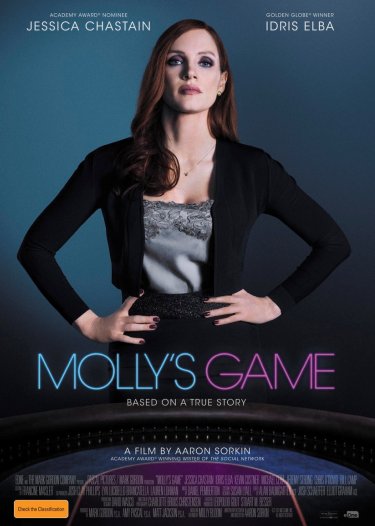 Molly's Game (2017)
release date: November 22nd, 2017
production company: Entertainment One, Pascal Pictures, The Mark Gordon Company

Directed by Aaron Sorkin
Screenplay by Aaron Sorkin
Based on the Book by Molly Bloom

Music Composed and Produced by Daniel Pemberton
Orchestra Conducted by TBA
Performed by The City of Prague Philharmonic Orchestra
Recorded by Vítek Král
Recorded at Smecky Studios, Prague, Czech Republic
Mixed by Gareth Williams
Music Editor Carlton Kaller
Orchestra Contracted by James Fitzpatrick
Music Supervisor Sean Mulligan, Carlton Kaller
Music Coordinator Victoria Beard

Synopsis
Molly Bloom a beautiful, young, Olympic-class skier who ran the world's most exclusive high-stakes poker game for a decade before being arrested in the middle of the night by 17 FBI agents wielding automatic weapons. Her players included Hollywood royalty, sports stars, business titans and finally, unbeknownst to her, the Russian mob. Her only ally was her criminal defense lawyer Charlie Jaffey, who learned that there was much more to Molly than the tabloids led us to believe.