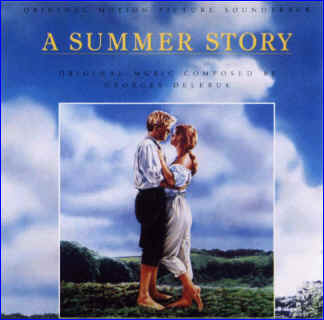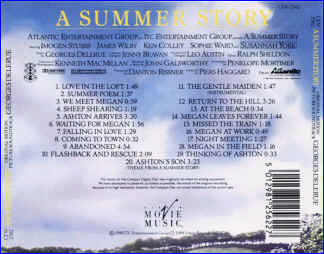 Music by Georges Delerue
Vydavatel: Virgin Records
Katalog: CDV-2562
Rok: 1988
Délka: 36´48
Stav: OOP
Cena: +/- 40 USD (ebay, *.4. 2003)
01. Love in the Loft (1´49)
02. Summer Poem (1´37)
03. We Meet Megan (0´59)
04. Sheep Shearing (1´19)
05. Ashton Arrives (3´20)
06. Waiting for Megan (1´56)
07. Falling in Love (1´29)
08. Coming to Town (0´32)
09. Abandoned (4´54)
10. Flashback and Rescue (2´09)
11. The Gentle Maiden (instrumental) (1´47)
12. Return to the Hill (3´26)
13. At the Beach (0´34)
14. Megan Leaves Forever (1´44)
15. Missed the Train (1´18)
16. Megan at Work (0´49)
17. Night Meeting (1´27)
18. Megan in the Field (1´16)
19. Thinking of Ashton (0´33)
20. Ashton´s Son (Theme From Summer Story) (3´23)
Hudba: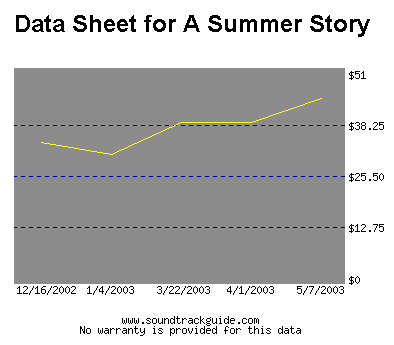 Liner Notes (by Edward V. Camarillo and Bumble Ward):
The Story
Set in 1902, "A Summer Story" is the tale of a Londoner (JAMES WILBY) who, while on a walking holiday in Devon, meets and falls in love with a young farm girl (IMOGEN STUBBS). Their tragic romance is played out against the spectacular backdrop of Dartmoor with its bare rock faces and heathered moor juxtaposed against the lush green farmlands with their mals. The realities of the time impigne upon the idyllic summer. This is England Before the Great War - still a society of strict class structure - and because of these pressures, the young man finds that he must make a decision the may deny him the greatest love of his life.
A timeless story of love and a powerful parable on the importance of decisions, "A Summer Story" tells how our choices can forever alter the course of our lives.
The Composer
Georges Delerue comes to "A Summer Story" with a wealth of film experience. Born in Roubaix, France in 1925, Delerue began his musical career at fourteen. Following extensive studies at the Paris Conservatoire, he found work writing for stage and radio productions. He soon graduated from radio to film, composing music for documentaries and shorts. In the late fifties, with the rise of the French "new wave," Delerue moved to the forefront of French film composers, working with such film great as Alain Resnais, Jean-Luc Goddard and, most notably, Francois Truffaut that Delerue wrote some of his most memorable scores, including "Jules et Jim," "The Soft Skin," "Shoot the Piano Player" and "Day and Night."
In the sixties and seventies Delerue established himself as an international film composer, working on the films in various countries, including the United States. An Academy Award winner for "A Little Romance," he was also nominated for his work on "The Day of the Dolphin," "Anne of Thousand Days," "Julia" and "Agnes of God."
In an age of full-blown, overpowering film scores, Delerue´s music speaks with a gentler voice, conveying with warmth and wonder the magic of life, the gentle strength of love and the consuming power of passion. It is these qualities that enhance and contribute so greatly to the success of "A Summer Story."
A note from the Director
The first thrill was hearing that Georges really like my film "C´est mon film," he said. I had, of course, been a passionate admirer of his music since "Jules et Jim."
Working together was pure pleasure. His taste is exquisitive and his emotional response both rich and poetic-one of the great romanties.
- Piers Haggard
Film: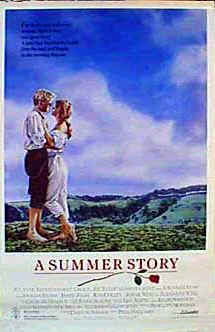 © Lokutus 1998-2003, last version 15.06.2003 20:18